Autonomous Fish Monitoring & Counting Systems
We began using underwater videography to monitor fish back in 1989 and things have changed a lot since then. Using our invaluable experience, we now design, build and supply cabled underwater fish and wildlife monitoring and counting systems that are ideal for monitoring fishways (for example see Node 10) and any other artificial or natural underwater habitat. These units are self-cleaning and designed for long-term, semi-permanent or permanent installation in freshwater and marine environments. Our systems can stream live underwater video through the BRAVO Network and automatically filter, collect and transfer novel and interesting fish activity for outreach, education and research.

Biotactic offers a variety of autonomous fish monitoring and counting equipment for purchase. We also provide end-to-end data analysis services. Please contact us directly to discuss your specific project needs, configuration and cable lengths, as well as data analysis options and pricing.
Autonomous Underwater Fish Monitoring Systems
Our BRAVO fish monitoring systems have been meticulously designed to facilitate long-term underwater data collection in open habitats such as streams, lakes, rivers, and marine environments or closed channels such as fishways, bypass channels, aqueducts, culverts or other fish passage structures at dams and other facilities. These clever systems can broadcast and collect video data that can then be used to identify, measure and count fish for research, management, education and public outreach - and they can keep themselves clean automatically without any need for underwater maintenance. Both our permanent and mobile systems are being continuously refined and improved.
Permanent Fish Monitoring Systems- BRAVO G3
We began designing and testing permanent underwater fish monitoring systems in 2005. In 2009 we developed the first self-cleaning underwater camera systems that allow the G3 system to operate continuously without maintenance in both freshwater and marine environments. The system uses fish detection algorithms to record archival activity both day and night while streaming video and water temperature live anywhere around the world. Systems can be both hard-wired or powered by a solar array and connected through satellite communications in more remote locations.
Our network and monitoring equipment have the following general features:
Input 12 VDC - Solar or AC/DC powered. 15+ metre (>50 feet) waterproof conduit and connectors for shallow or deep installation in fresh or saltwater
1000+ lines color high-resolution analog video (1/3 SONY Super HAD CCD sensor) and digital 1080p IP camera systems with infrared illumination at night (infrared LEDs)
Low maintenance self-cleaning glass lens with variable duty-cycles depending on water conditions and nutrient levels
Biological data are algorithmically filtered, time and date stamped and recorded to 500GB solid state hard drive on a single board 1.8GHz computer with a dual core processor, no moving parts and 8GB of RAM
Water and air temperature measured and recorded every 30 seconds
All video and sensor data can be continuously uploaded live to the internet through our central BRAVO network or by ftp anywhere if an internet link with appropriate bandwidth is available (> 1Mbs)
Our fish monitoring systems can easily be upgraded to fish counting systems whereby recorded biological data are analyzed in near-real time using BRAVO AI to determine fish counts, relative abundance, direction of passage and net daily passage, peak passage rates as well as estimates of fish length and condition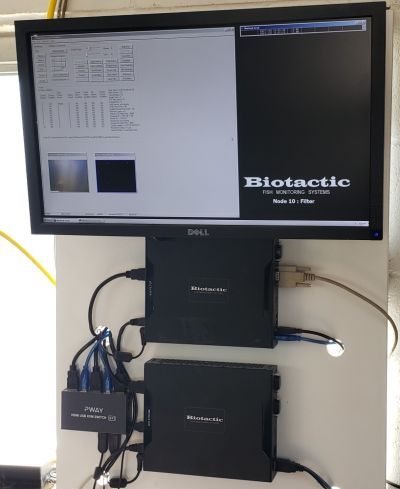 ---
These board-mounted G2 fish monitoring systems collect data using motion detection to allow identification of fish species, counts and measurements of fish abundance. Archive video can be automatically posted and the live stream is hosted by Biotactic.com.

The video data collected automatically by the BRAVO system is particularly useful for establishing baseline data and for realizing long-term research objectives related to inter-annual variation in fishway counts, fish migration patterns, migration timing, habitat utilization and reproductive behavior. The system has also been proven to be useful for monitoring species at risk, invasive species and observing behavior of benthic organisms such as mussels, crayfish, diving ducks, turtles, and of course, behaviour, activity, and presence/absence of various fish species.

Applications include scientific research, agency-based fish and wildlife monitoring, marine biological studies, aquaculture, underwater surveillance, education and basic fun. Since 2005 our underwater fish monitoring network has been used to achieve various long-term research objectives related to inter-annual variation in fish migration patterns, migration timing and habitat utilization on a global scale.
Mobile Fish Monitoring Systems- BRAVO M2
These solar-powered fish monitoring systems are designed for use in remote locations where internet access or power may not be available. Fish activity is detected both day and night and recorded on SD cards.
Our mobile systems have the following general features:
Fully waterproof sealed enclosure and camera with 15+ metre (>50 feet) waterproof cable
Stand alone power with continuous maintenance-free operation with one 12V deep-cycle battery and solar panel
Time and date-stamped video recorded to SD card (up to 32GB)
Variable frame capture rates (1-30fps) and motion detection to remove periods of inactivity to reduce data processing time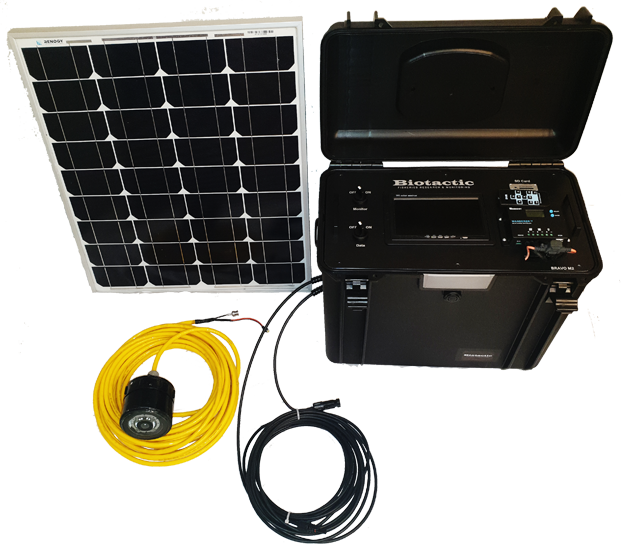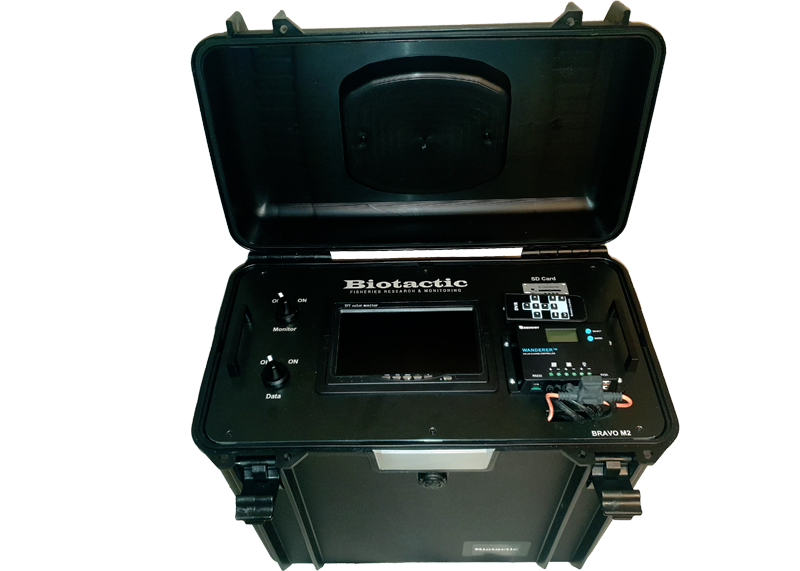 Fish Counters and Data Analysis
We have developed and meticulously tested machine learning AI software we call the BRAIN (Biotactic Research Artificial Intelligence Network). Biological data captured using our M2 and G3 systems can be automatically processed through the BRAIN which will count fish, measure direction of passage, net daily passage, peak passage rates as well as estimates of fish length and condition (requires scaling). For G3 systems that stream online, this data analysis is performed each day and data are made available online within 24 hours providing clients with a near-real time understanding of fish movement and relative abundance in their system. Find out more here.